Strengthen Your Immune System, Increase Your Energy & Avoid Getting Sick so Much (or at All) – With Liposomal Vitamin C
One of the best kept secrets of the supplement industry has always been that typical Vitamin C pills and capsules lose 80% to 90% of their active ingredients in the harsh environment of the human digestive system.

That's why they have historically been very ineffective at helping the body strengthen its immune system and protect itself against such things as colds and flues.
If you've taken Vitamin C supplements in the past and felt like you received little to no benefit … this is most likely why!
Thankfully more and more people are starting to realize that there is a better alternative - liposomal supplements. In fact, there are liposomal products producing amazing results right now – especially Liposentials Liposomal Vitamin C!
This is Exciting News for 2022 and Beyond
Liposomal drug delivery technology is being used not only for delivering Vitamin C but various other vitamins and supplements as well. This technology is quickly changing both the way beneficial natural ingredients are delivered and the level of support they provide. A recent study entitled, "Liposomes as Advanced Delivery Systems for Nutraceuticals" found, among other things that liposomal delivery has high bioavailability and absorption and it increases intracellular activity.

The study also found that liposomal delivery is great for avoiding the pain and discomfort of injections, protects against the harsh environment of GI tract and is cost effective as users can take a lower dose for the same effect.(1)
So What Exactly is Liposomal Delivery Technology?
Liposomal refers to tiny – really, really tiny (like nano-sized) – bubbles that are similar to the body's own cell membranes. These bubbles protect the supplement ingredients as they travel through the body.
The bubbles are also able to pass through the body's cells sending your absorption rate skyrocketing!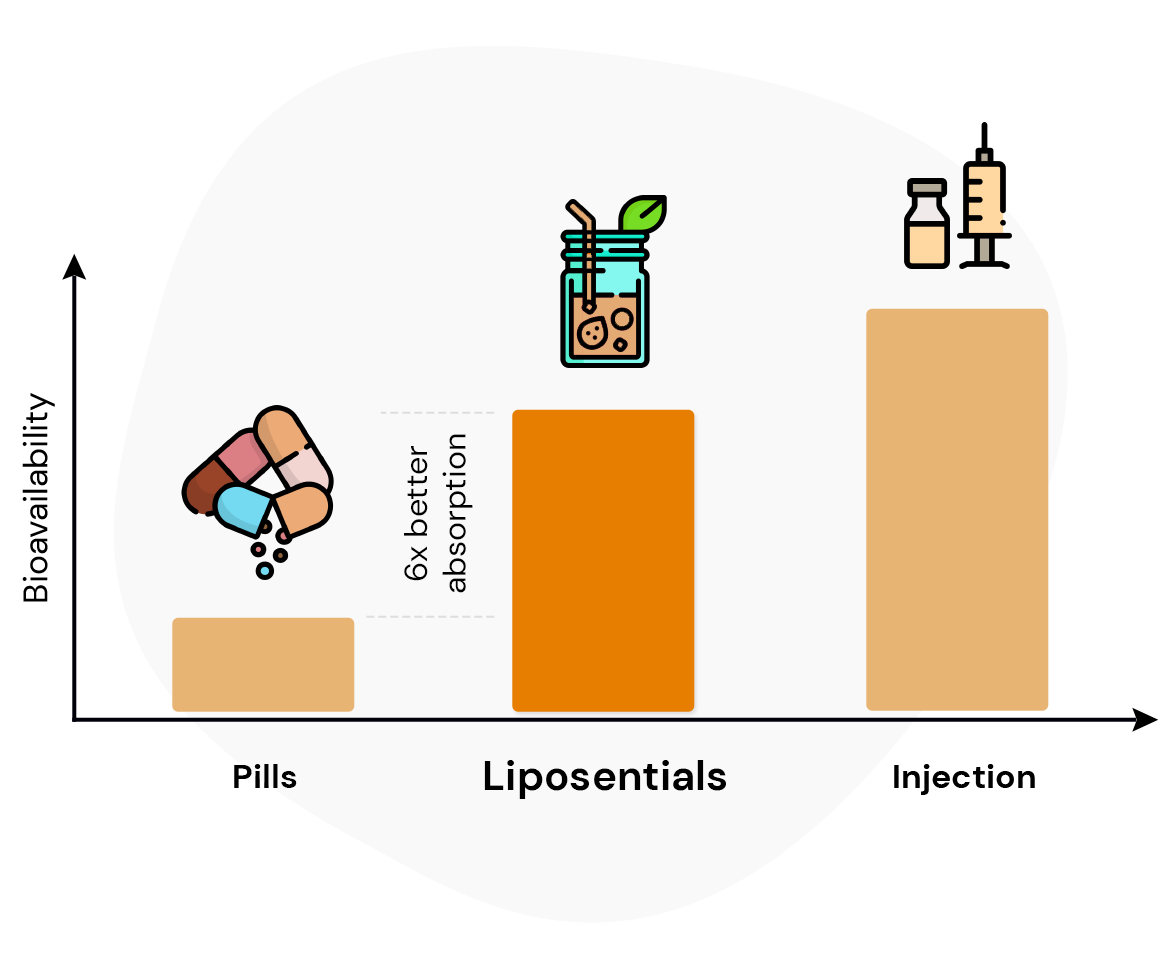 Scientists say that liposomal supplements have an absorption rate that is 6 Times higher than standard vitamins! That means instead of absorbing 10% to 20% of a supplement your body absorbs 80%. 
By the way, the injection absorption rate is 90-95%, so the liposomal supplements absorption rate is very close to the injection rate - without the painful needle prick!
Plus, there is scientific proof that liposomal-encapsulated Vitamin C is absorbed better.
Liposentials is one of the few companies in this market that backs up their product with actual clinical trials. That's right, Liposentials has real scientific proof that its product is effective - with this published paper that reports the results of clinical trials. 
It turns out that the liposomal drug delivery system has been around for over 20 years. It's been used in the drug market mostly - where it has been shown again and again to work. Now it is also being applied to supplements on a growing scale!
Liposentials Has Taken the Next Step & Combined the Liposomal Vitamin C with Curcumin to Deliver the Ultimate Immune System Support Formula
Vitamin C is key because it is a powerful immune system supporter. Numerous recent scientific studies have shown promising results for Vitamin C supplementation. Here are just a few of them:
✓ Vitamin C contributes to immune defense by supporting various cellular functions of both the innate and adaptive immune system (3);
✓ Vitamin C has been shown to enhance differentiation and proliferation of B- and T-cells (these cells fight bacteria, viruses and other invaders) (3);
✓ Vitamin C appears to be able to both prevent and treat respiratory and systemic infection (3);
✓ The most widely known beneficial health of Vitamin C is the prevention and relief of the common cold (4);
✓ Vitamin C enhances the availability and absorption of iron from non-heme iron sources (5);
✓ It also increases production of collagen, which keeps skin looking firm by helping to reduce the appearance of fine lines and wrinkles(6).
Liposentials Liposomal Vitamin C allows users to absorb more essential Vitamin C …
In other words, Liposentials Liposomal Vitamin C contains a powerful one-two punch that is capable of taking your immune system to a higher level.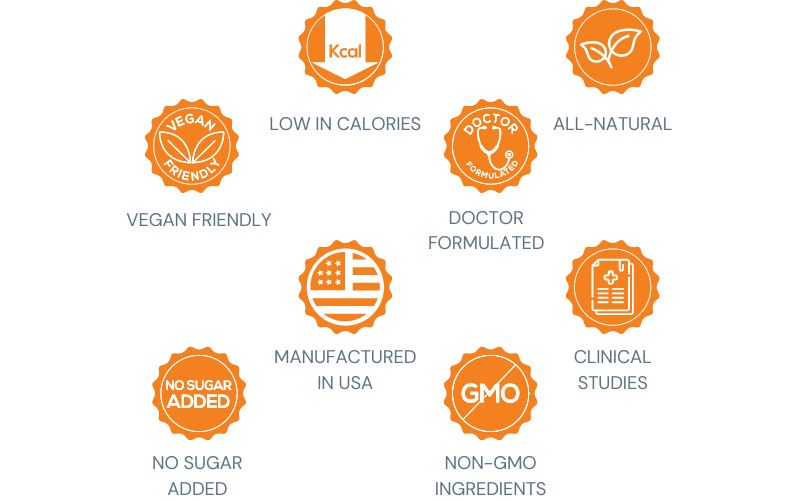 That's right, this product is doctor formulated and clinically proven.
There is one more great thing about Liposentials Liposomal Vitamin C - one serving contains 1000mg of Vitamin C! Meanwhile, standard pills only contain approximately 200-250mg.
So with Liposentials, not only do you get higher absorption but you also enjoy a higher dose of Vitamin C as well.
That's why, instead of taking something and wondering if you received any benefit at all or if youjust wasted their money …

Users of Liposentials Liposomal Vitamin C Are Noticing BIG Benefits!
For example, Rose F. recently wrote in to tell us the following:

"I used to dread fall and winter – or in other words "flu season." Honestly, it seemed like I would be constantly sick from the start of flu season until the end. But things have certainly changed since I started taking Liposentials Liposomal Vitamin C.

When I first started taking it I had a sore throat and the very next day I realized my sore throat was gone. From there the benefits multiplied. I had more energy and just felt better overall. The big benefit, though, was that I didn't get sick in the days after I began taking it.

Now it's like I'm a new person. I don't get sick and I no longer worry about getting sick. Instead of living my life afraid I've got a whole new lease on life."

Sally M. wrote in to tell us a similar story. "I have a young school-age daughter who seems like she is always bringing something new that she caught at school home to me. I get sick so often and nothing I tried helped until I found Liposentials. Now I'm not secretly afraid to hug my daughter when she is not feeling well."

Tom K. says his weak immune system was putting his job in jeopardy before he found Liposentials. "I used to get so sick so often and then I would have to call in sick or go to work sick which impacted my performance. I knew I was on thin ice at work because I was sick so often. Luckily, a friend told me about Liposentials and now my work attendance is much better. Liposentials has made a huge difference for me."
The Real Problem With Past Immune Supporting Products Has Been Identified & Overcome

As we said earlier, the human digestive system is a very harsh environment. Most of the products we take are simply destroyed by strong stomach acid and then passed out of our body.
In other words, what some people like to say about supplements – that when you take them you are just making your urine expensive because they are passing right out of your body … IS TRUE in some cases!
Liposentials Liposomal Vitamin C changes that.
That's why liposomal has become the preferred delivery method for many doctors today.

For example, here is what Dr. T Levy has to say about it:

"[...]very many infections, toxin exposures, and even chronic diseases can and have been very effectively managed by taking only one type of vitamin C [..] Liposome-encapsulated vitamin C and intravenous vitamin C are wonderful and highly effective ways to achieve that goal." (10) – Dr. T Levy

Ready to start enjoying much higher ingredient absorption!

At Last, There is a Healthy Immunity Support.
Supplement That Really Works!
Liposentials Liposomal Vitamin C is loaded with beneficial Vitamin C along with curcumin.
Plus, it tastes great.
One way that those large companies that produce pills and capsules have tried to fight back against the rising popularity of liposomal supplements is to spread a false rumor that they have a terrible taste.
Liposentials Liposomal Vitamin C has a delicious orange flavor that users love.
Just take one sachet a day daily, or as directed by your healthcare practitioner. The sachet contains liquid which makes it easy to mix with water, juice, a smoothie, yogurt, porridge and more.!
In addition to supporting the immune system, Vitamin C has also been shown to enhance skin's youthful appearance and to increase energy. That means taking this supplement daily could also help you both look and feel younger!

How Much Does It Cost?
Act now and you can get a 30 units box of Liposentials Vitamin C for just $29.82. That's a small fraction of what drugs and days of illness can cost.
To get this offer, go to Liposentials official website here.

SAVE BIG!
Special Update:
Bundle Discount Now Available!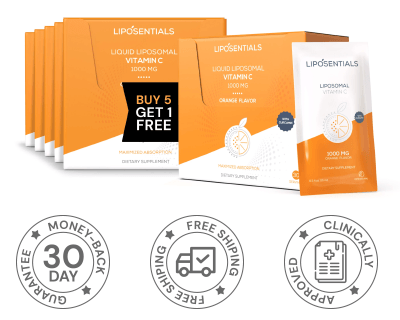 Act now and you can get up to a 30% SAVINGS when you buy a bundle of Liposentials Liposomal Vitamin C.
But wait it gets even better – act now and if you order four boxes you'll get an entire additional box for FREE!
Plus, you get FREE SHIPPING on all bundle orders.
Liposentials Liposomal Vitamin C comes with a full 30-day money-back guarantee so you have nothing to lose by taking advantage of this offer.
Hurry, these special discount bundle prices are only good for a limited time. Act now before it is too late.
Yes! I want it!
Now that you have read this article you have two choices.
Choice #1 – Do nothing and try to put everything you read here today out of your mind. But don't be surprised if in a week or a month or maybe even a year from now when you are sick and feeling miserable that you don't remember this opportunity and feel regret for not taking that small step to support your immune system and enjoy better health.
Choice #2 – Give Liposentials a try … In no time, you could have a stronger immune system as well as a more youthful appearance and more energy.

Sometimes taking this last step is hard ...

We think what if it doesn't work. I've been burned in the past and if this doesn't work it could crush me.
Well, that's the wrong way to look at this. You should be looking at this as an opportunity – an opportunity that could help you protect your health and feel better!
It's worked for thousands of people and it can work for you as well. Don't doom yourself to getting sick frequently.
Act now to support your immune system with Liposentials Liposomal Vitamin C. Order now and save. There has never been a better time to get this product.
Stop going through life sick and drained of energy. Support good health and higher energy with Liposentials Liposomal Vitamin C.
Act now for special discount bundle pricing – and be ready for cold and flu season!

The Decision is Yours!
Capture The Goodness Inside
Supports Immune System
Increases Energy Levels
Improves Collagen Formation  
Strengthens Hair & Nails
FREE SHIPPING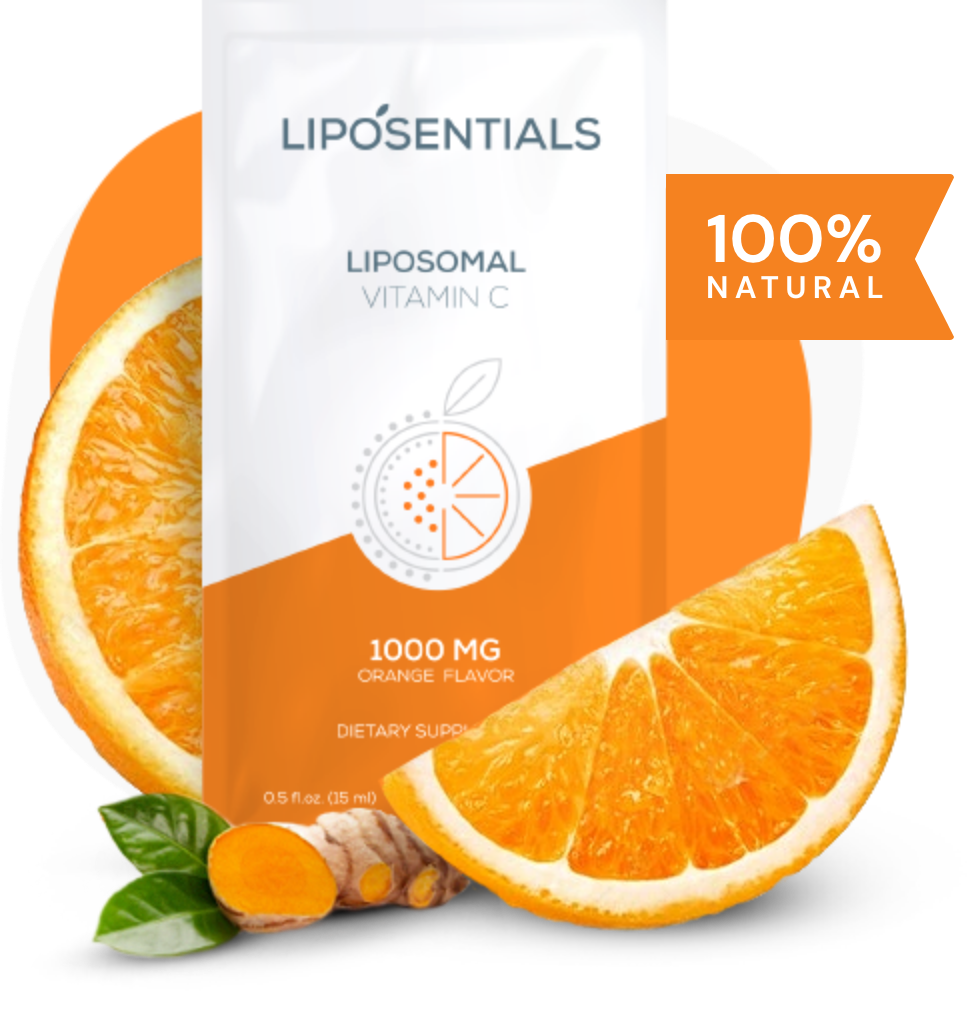 Yes, I want it!
Choosing a selection results in a full page refresh.
Press the space key then arrow keys to make a selection.