MAXIMIZED ABSORPTION
Liposomal
Vitamin C
with CURCUMIN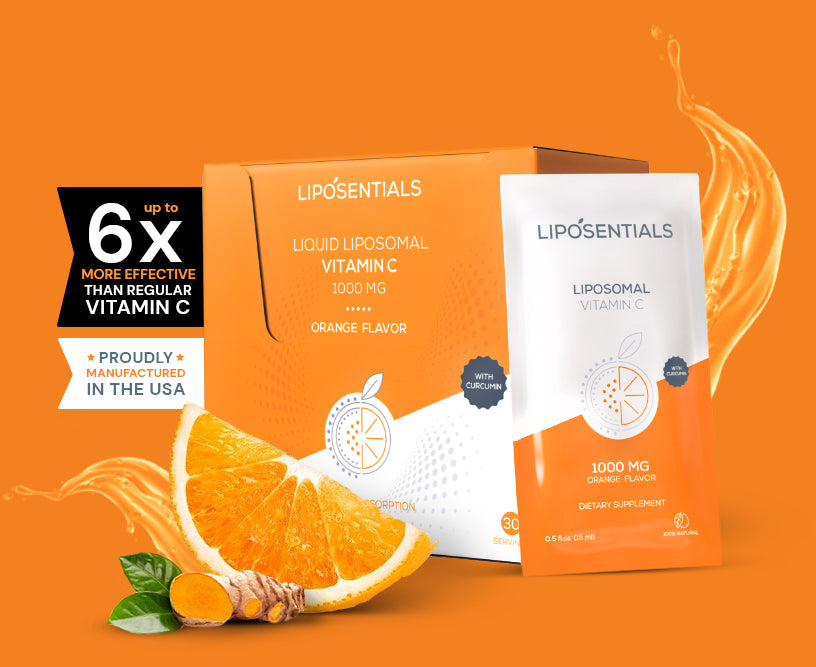 LEARN MORE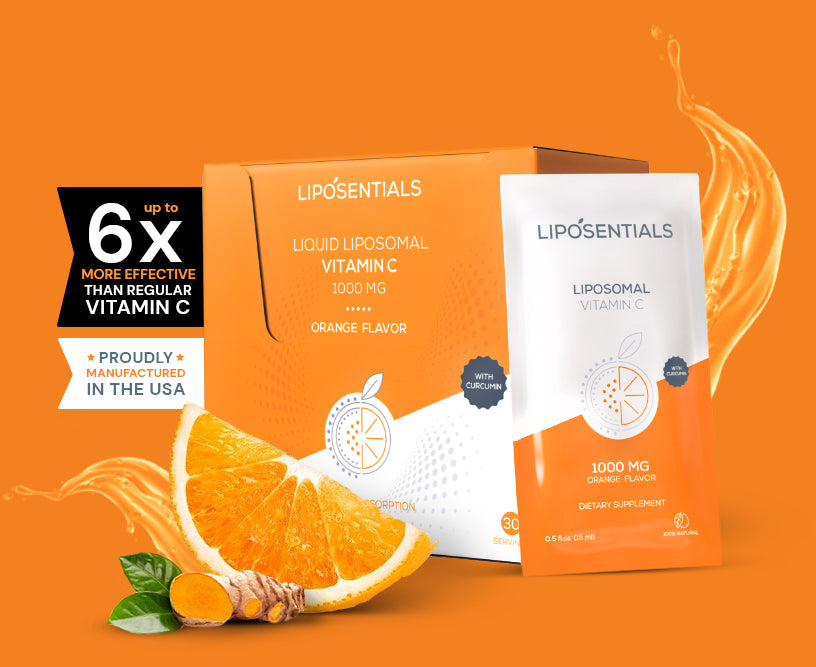 SUGAR FREE

NON-GMO INGREDIENTS

VEGAN FRIENDLY

DOCTOR FORMULATED
Easily Absorbed

Liposomal Vitamin C
Boost your immune system, regain energy and rejuvenate your skin with Liposentials Vitamin C.
One packet of Liposentials contains 1000mg of liquid curcumin-enriched Vitamin C, which is absorbed by the body much more efficiently than traditional Vitamin C tablets.
Up to 6x
Better Absorption
Did you know that your body only manages to absorb a small fraction of the regular vitamin c you consume? Liposomal encapsulation technology protects vitamin c from stomach acid and thus increases the absorption of vitamin c.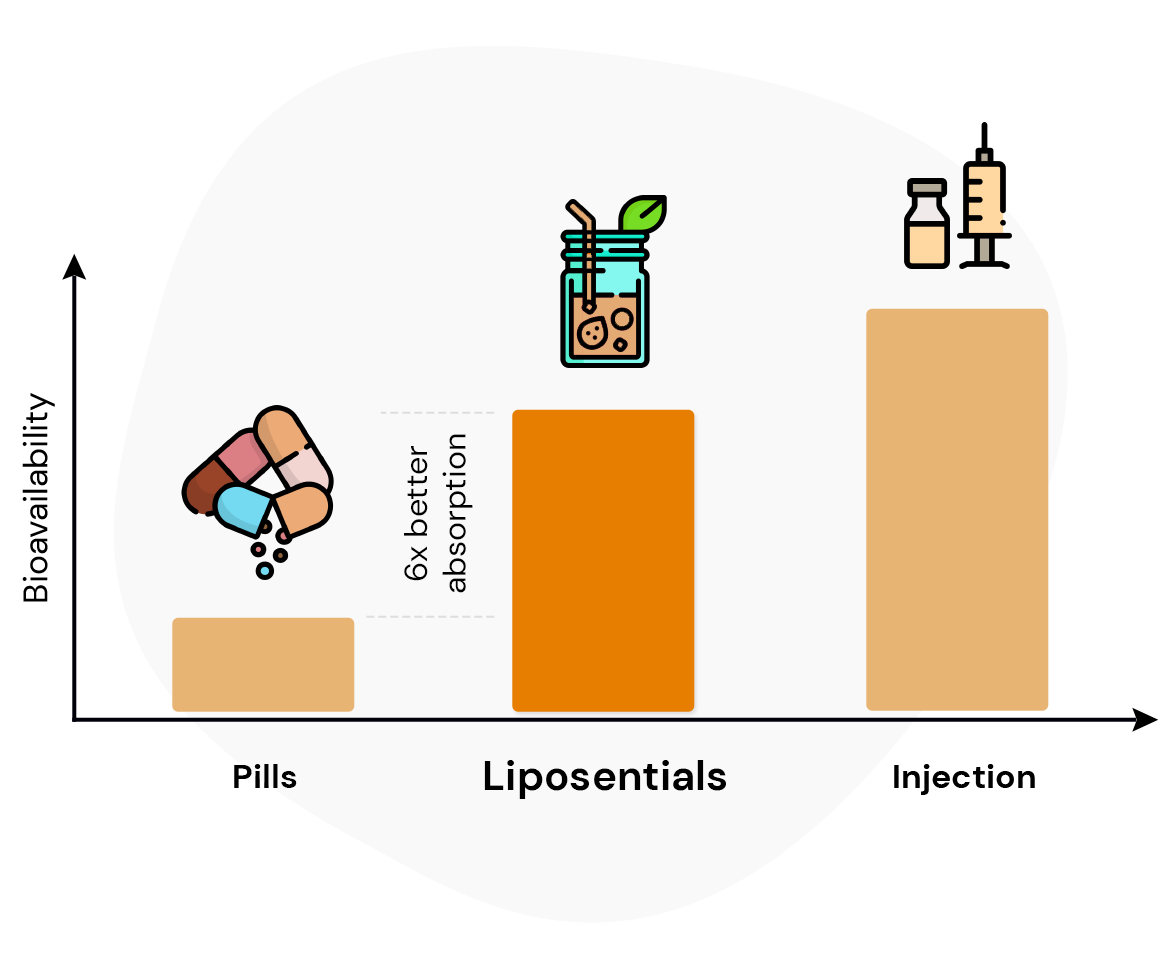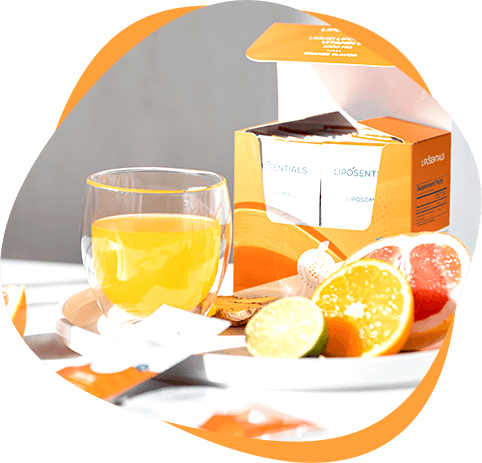 Immune System
Support
Vitamin C contributes to the normal function of the immune system, the reduction of tiredness and fatigue, normal psychological function, and normal collagen formation.
Liposomal Vitamin C is proven to
Boost

Energy Level

Liposomal Vitamin C contributes to the reduction of tiredness and fatigue. Your body needs Vitamin C to make L-carnitine, which helps you burn fat for energy. Researchers at the National Institutes of Health reported that fatigue was one of the first signs of Vitamin C depletion.

Support

Immune System

Vitamin C is one of the biggest immune system supporters of all. In fact, a lack of Vitamin C can even make you more prone to getting sick.

Improve

Collagen Formation

Boosts production of collagen, which keeps skin looking firm, helping to reduce the appearance of fine lines and wrinkles.

Protect

With Powerful Antioxidants

Neutralize free radicals from stress and environmental toxins with this powerful antioxidant.
Enhance

Skin's Youthfulness

Liposomal Vitamin C promotes collagen production, which has the potential to thicken the dermis, diminish fine lines, and is essential for firm, youthful skin.

Speed Up

Metabolism

Individuals with an adequate Vitamin C balance, oxidize 30% more fat during a moderate exercise than individuals with low Vitamin C. [1]

Increase

Iron Absorption

If you have low iron levels, consuming more Vitamin-C-rich foods or taking a Vitamin C supplement may help improve your blood iron levels.It may also reduce the risk of iron deficiency.

Strengthen

Nails & Hair

Vitamin C is essential for the production of collagen, a protein that gives shape, strength and integrity to many tissues and is the building block of fingernails, hair and teeth. A deficiency in vitamin C can result in brittle nails, as well as slowed nail growth.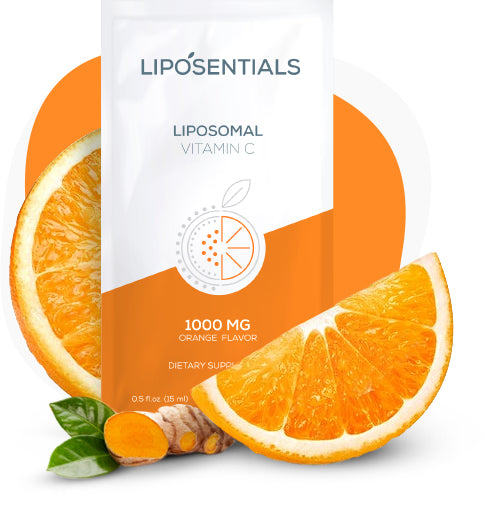 What's
Inside?
Take one sachet a day daily, or as directed by your healthcare practitioner. Keep in a cool, dry place out of direct sunlight.
Each Sachet Contains:

Vitamin C (Ascorbic Acid)

1000mg

Curcumin

65mg
VEGAN FRIENDLY

DOCTOR FORMULATED

100% NATURAL

SUGAR FREE

MADE IN USA

BASED ON CLINICAL TRIALS
Our Full List of Ingredients:
Vitamin C (as Ascorbic Acid), Purified Water, Glycerin, Non-GMO Sunflower Lecithin, Stevia Leaf Extract (as Glucosylsteviosides), Potassium Sorbate, Natural Flavors
Our liquid liposomal Vitamin C DOES NOT Contain:
Sugar; alcohol solvents, such as ethanol; soy; dairy; artificial flavors; or artificial preservatives. Further, we do not source our Vitamin C (Ascorbic Acid) from China, entirely for quality assurance reasons.
See What Our Customers Have To Say…
Great supplement. Can immediately feel a difference after taking it.

- Kenneth D.

Verified buyer

Great in winter months when I feel I am about to go down with colds and flu.

I have been having these daily for over a month now and I think they are great. I have lots more energy in the mornings and the added benefit is they taste great!

- Joseph L.

Verified buyer

Originally, I bought Liposentials to support the owners - people of integrity and care for others - I'm really glad I've made the choice because I use Liposentials daily now straight from the packet. I can't wait for more from the Liposentials team! Thank you!
FAQ
SEE all questions
Why is liposomal Vitamin C better than traditional pills and capsules?

When you take traditional Vitamin C supplements in  pill, tablet or capsule form, you are only absorbing a fraction of the amount of Vitamin C stated on the bottle. That's because 80% of a pill or tablet is lost due to the harsh environment of the digestive system. That means  your body doesn't get the Vitamin C it needs. The end result is that more than 90% of the active Vitamin C content of pills, tablets and capsules is excreted from your body.

What is the best time to take Liposomal Vitamin C?

You can take this supplement at any time.  Whenever it fits your routine and is convenient for you is OK. However, if you want to keep a set schedule and ensure you don't forget to take the supplement, we recommend taking it first thing in the morning on an empty stomach.

Is Liposentials Vitamin C safe for children?

Yes, Liposentials Vitamin C is safe for children, however we always recommend consulting with a medical professional before giving any dietary supplement to children under the age of 18.

Can I take Liposentials Vitamin C if I'm pregnant or breastfeeding?

We always recommend pregnant or nursing mothers, children under the age of 18 and individuals with a known medical condition consult a medical professional before taking any new dietary supplement.

Where is Liposentials made?

Liposentials LLC is a proud U.S. company registered in Massachusetts. Our products are manufactured and packaged here in the United States.
Liposentials has been a proud member of 1% for the Planet since our founding in 2022. 1% of our gross annual sales are donated to environmental nonprofits through our partnership. Take care of the Earth and encourage others to do the same.
Choosing a selection results in a full page refresh.
Press the space key then arrow keys to make a selection.